Sandstone Lakes is situated on Pumicestone Passage, just south of the Bribie Island Bridge, on the mainland side of the waterway.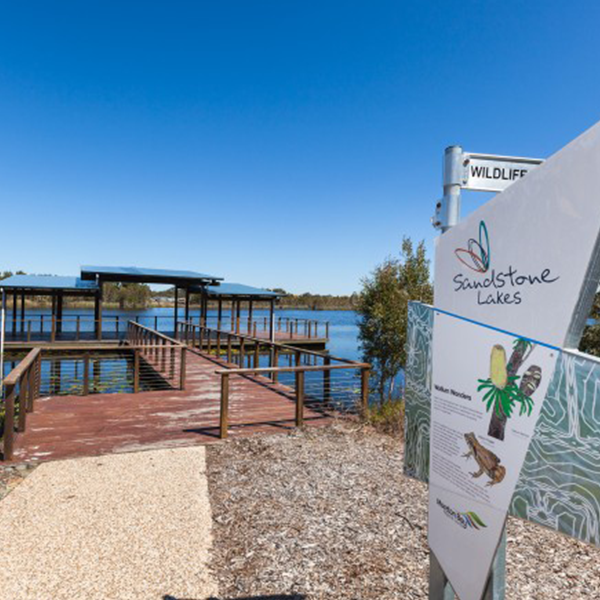 QM Properties investment and confidence in the Moreton Bay Regional Council has been supported by Councillor Gary Parsons. "QM Properties have been investing in the Moreton Bay area for over 30 years now," said Gary. "They have created communities, jobs, and a positive profile for our lifestyle. We look forward to many more developments like Sandstone Lakes that enhances the Moreton Bay Region," he said.

"We have so much natural beauty in the beaches and national parks and places like Sandstone Lakes and Pacific Harbour allow many residents to embrace this lifestyle whilst retaining our unspoiled environment."

Sandstone Lakes is linked by bikeways and walkways to sandy beaches, and to the bridge which links the development to the ocean beaches at Woorim.
The development also boasts its own expansive lake, surrounded by landscaped parklands, playgrounds, bikeways, and community space.

Sandstone Lakes has attracted respected builders busy creating a community of high quality modern homes. Many homes face the lake, Ningi Creek or the two natural billabongs in the development.

Family homes at the development are stylish, open plan beach inspired homes similar to what has become known as the 'Pacific Harbour' style. The design features central courtyards, alfresco dining and living areas that makes the most of the subtropical leisure lifestyle.

"We see Sandstone Lakes as an extension of our development at Pacific Harbour," said Damien. "Living at Sandstone Lakes will have the added advantage of access to the Pacific Harbour Golf Club, the Pacific Harbour Marina, and the Village."

"Residents can also enjoy the restaurants, cafes and bars on the Bribie Island Esplanade, just a short drive or trip in their tinny to the heritage listed jetty," he said. The Jetty Precinct, across the water from Sandstone Lakes, has become an entertainment hub with a tapas and wine bar, French style bistro, wood fired pizzeria, and classic fish and chippery on offer.

Sandstone Lakes will be a magnet for families interested in a laid back lifestyle whilst also looking for the education, retail, and transport infrastructure they require in nearby Caboolture. "There is also a growing trend in the Moreton area for micro businesses and people working from home, and the new stages of Sandstone Lakes will have the benefit of the NBN rollout," said Damien.

Sandstone lakes offers families an idyllic leisure lifestyle after work and on weekends. Fishing, sailing, swimming, kayaking and windsurfing are all popular in the safe waters of the Passage, as well as 4WDing and surfing at Woorim. "Sandstone Lakes will complement our range of options for buyers seeking a work/lifestyle balance," said Damien.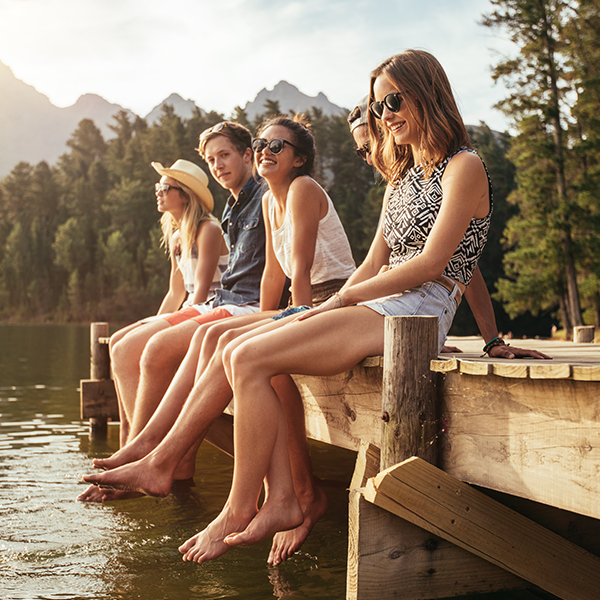 • 400sqm to 861sqm allotment sizes
• 12.5+ allotment frontages
• NBN Ready
• Land Registration: Stage 7
• Bus Stop: 1.2km*
• Train Station: 18km*
• Ningi Shops: 3.1km*
• Bribie Island, Bellara Shopping district: 7.2km*
• Ocean Beach: 13km*
• Boat Ramp, Bellara: 6.8km*
• Caboolture: 18.5km*
• Brisbane: 64km*
• Brisbane Airport: 59km*
A wide range of Home and Land packages, tailored to suit a range of budgets and preferences, are available at the Ningi Home and Land Centre,
To find out more get in touch with us today!
Phone: (07) 3385 6278
Email: salesadmin@djroberts.com.au